The IAS 2023 logo is inspired by artwork designed by Leah Cummins, a Mayi woman from north-western Queensland.
About the artwork in the artist's words:
This story is inspired by the coming together of many people from many places to converge on Meeanjin Brisbane – people coming to bring ideas and ways of thinking as a holistic approach to healing from modern and traditional medicine. The middle of the artwork is a message stick where everyone is meeting. This message stick represents the message that is going to be shared at IAS 2023 and will be shared with one another for years to come. The blue river that connects this event is the Meeanjin river – this is a meeting place that connects each other, bringing nourishment and healing. The top circle is modern medicine. This brings innovations and growth for the future. The lower circle is traditional knowledge that we hold as custodians of this land, bringing together a message of holistic healing.
Surrounding this art are people from many walks of life and the knowledge they bring to the event. The footprints are the steps we take together and what we leave behind as a legacy of a better future for people living with HIV. The stars are what connect us to the future and to the past. May we learn what First Nations people bring with a holistic healing approach in the response to HIV. We listen, learn and appreciate one another as we walk towards this journey on "Meeanjin" Brisbane, the home of the Yuggera people.
I want to share this piece with love and harmony.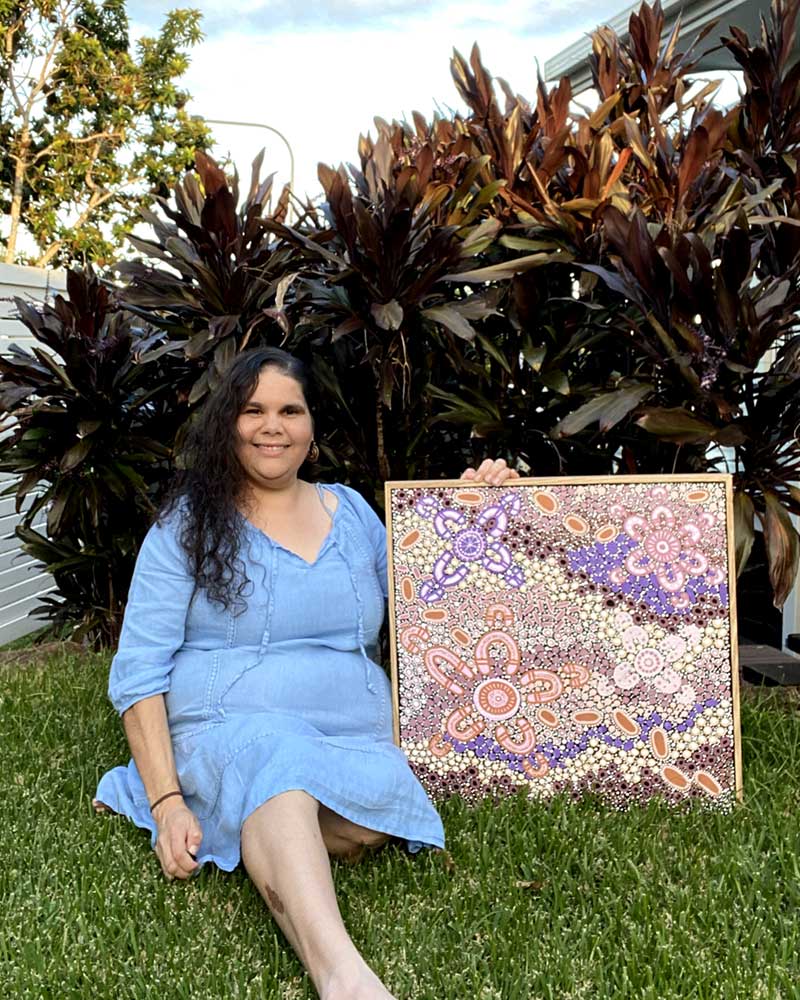 About Leah Cummins:
Yathi winja (Good day). I am a proud Mayi woman from north-western Queensland.
I find inspiration in my cultural identity and bring my stories of my country and people to life in my art. I paint stories of strength for women and children, and the love of the land and all my people.
I pay respect to the ancestors who give me these stories in my creativity, to share my culture that transcends words and draws people into wanting to learn about First Nations people. I paint both traditional and contemporary art using storytelling in every art piece to teach everyone of my people's culture.
I hope to inspire and uplift my people by contributing to the sharing of culture and stories through my art. I want to share my love for my people with you. I want to share my love of art and interpretation of empowerment of my people.