IAS 2023, the 12th IAS Conference on HIV Science, laid out new breaking research on the journey towards realizing a world where HIV is no longer a threat to public health and individual well-being.
The following are some highlights.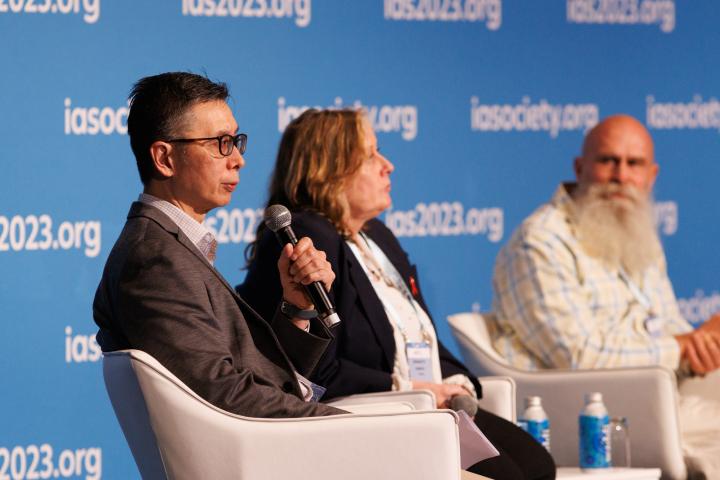 Delegates were introduced to the "Geneva Patient", the sixth person considered "cured" of HIV. The Geneva Patient is a Caucasian male whose viral load remains undetectable 20 months after discontinuing antiretroviral therapy. In 2018, he received chemotherapy for biphenotypic sarcoma following a stem cell transplant from an unrelated HLA-matched wild-type CCR5 donor. In this instance, the donor had normal or "wild type" stem cells – meaning they were susceptible to HIV. The other five had received stem cell transplants from donors whose cells have a rare mutation that makes them resistant to HIV, known as the CCR5-delta32 mutation.
People living with HIV are substantially more likely to develop cardiovascular disease, and much earlier in life. But full results from the Randomized Trial to Prevent Vascular Events (REPRIEVE) trial, released at IAS 2023 for the first time, point to a game changer: participants living with HIV who took a daily statin (pitavastatin) lowered their likelihood of major adverse cardiovascular events by 35%. Participants in the treatment group were 21% less likely than those in the placebo group to experience major cardiovascular events during the study period. REPRIEVE enrolled 7,769 adults between the ages of 40 and 75 in 12 countries since 2015.
People living with HIV who have an undetectable viral load using any World Health Organization-approved test and take medication as prescribed have "zero risk" of transmitting HIV to their sexual partner(s). This is a massive boost to the undetectable equals untransmittable (U=U) messaging. For more on this subject, please consult this IAS "What you need to know" resource.
Voluntary medical male circumcision (VMMC) reduces HIV acquisition among men who have sex with men, the first-ever randomized controlled trial on VMMC among men who have sex with men found. A study from China of nearly 250 HIV-negative men who predominantly practiced insertive anal sex and were willing to undergo VMMC found that there were no HIV seroconversions in the intervention arm (immediate VMMC) and five in the control arm (delayed VMMC).
Boys may have a better chance of sustained HIV remission than girls due to innate immune sex differences, results from a longitudinal study in KwaZulu-Natal, South Africa, of 281 mother-child pairs following in utero HIV transmission show. All children in the study received antiretroviral therapy at birth; 92% also received antiretrovirals prior to birth through their mothers. The study identified five boys (and no girls) born with HIV who maintained an undetectable viral load despite low adherence or non-adherence to antiretroviral therapy.
Injectable PrEP is still not available in many countries. However, nearly eight in 10 of 2,500 cisgender women in seven countries in Africa prefer long-acting injectable cabotegravir (CAB-LA) over daily oral TDF/FTC as PrEP when they have the choice, underlining the need to roll it out. This emerged from an open-label study extension of HPTN 084, a landmark clinical trial which demonstrated that CAB-LA is superior to daily oral PrEP for HIV prevention in individuals assigned female at birth.
The inner-city area of Sydney is the first area in the world to virtually eliminate HIV transmission (this implies an absence of sustained endemic community transmission, not zero transmission). The area reduced new acquisitions by 88% and is within easy reach of the UNAIDS targets. Australia is now on track to potentially becoming the first country to eliminate HIV transmission.
The World Health Organization (WHO) revealed important analyses on the intersections between HIV, COVID-19 and mpox, underlining the need for equitable access to vaccines:
Mortality due to COVID-19 among HIV-negative people decreased drastically after vaccination, but there was only a modest reduction (38-39% in the Omicron and Delta waves) for people living with HIV, especially those with low CD4 counts, data from the WHO Global Clinical Platform comprising more than 821,000 people hospitalized with COVID-19 showed. This highlights the need to implement WHO recommendations to give booster vaccine doses to all people living with HIV.

WHO's 2022 global surveillance analysis shows that people living with HIV who contracted mpox were not more likely to be hospitalized unless they were immunosuppressed – and uncontrolled HIV might lead to disproportionate mpox morbidity. Health systems should ensure that people living with HIV are aware of their diagnosis, linked to care, on effective ART and achieve viral suppression. Mpox testing can be an opportunity to do that.
If you want more information on the science from IAS 2023, read the rapporteur summaries by each programme track.
And take a listen to HIV unmuted, the award-winning IAS podcast, where we take a deep dive into the breaking science released at IAS 2023 and explain why these breakthroughs are so important for people living with and affected by HIV.