Philippines
I use "they/them" pronouns and I am a queer feminist activist working at the intersections of LGBTQI+ rights, sexual and reproductive health and rights and youth empowerment. I am the Executive Director of Youth Voices Count, a regional network for young LGBTQI+ people in Asia-Pacific working on human rights and sexual health. I sit on the Global Fund Youth Council, a board member of the International Day Against Homophobia, Biphobia, and Transphobia Committee, and a Youth Action Team member and Diversity and Inclusion Advisory Group member of CIVICUS. In 2018, the APCOM Foundation awarded me the Young Achiever HERO Award. I hold an MA in human rights and democratization from the Institute of Human Rights and Peace Studies of Mahidol University, Thailand.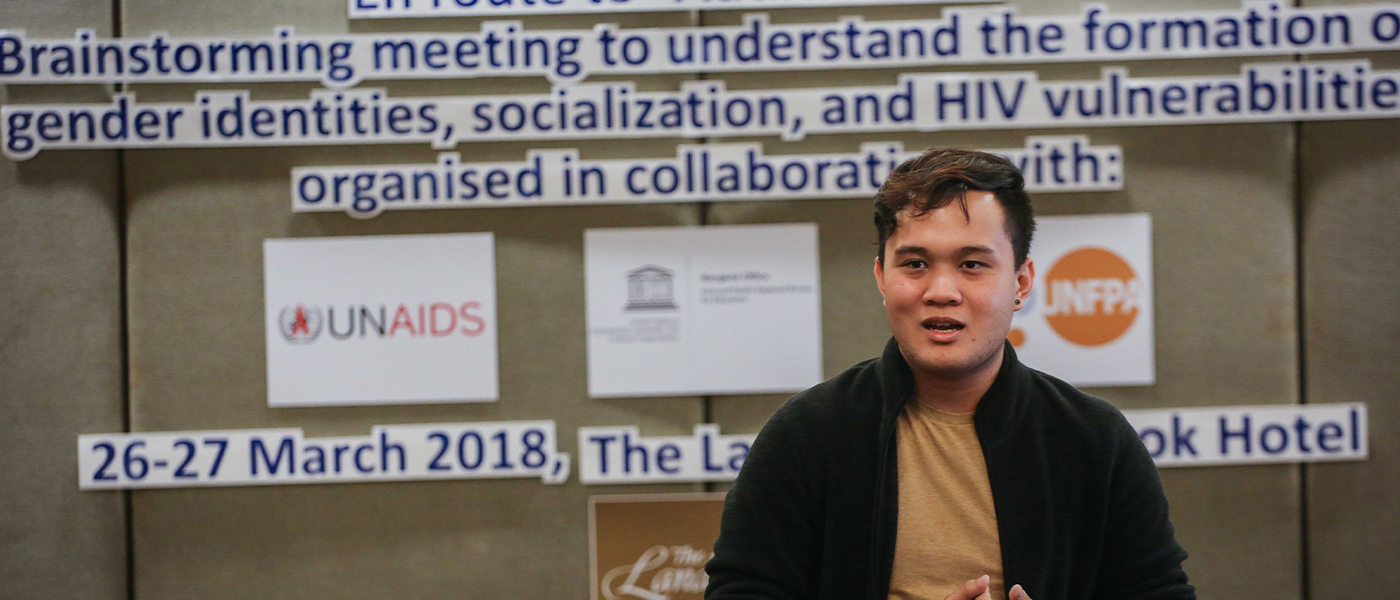 Young people are in leadership and decision-making roles in the HIV response, but we should ask if their presence is meaningful and their narratives are considered. Often, our institutions, structures, cultures of inclusion and programming are designed to be tokenistic: to include but not meaningfully engage. There should be a shift in the dynamics and strategies of engaging with young people – in the HIV response and human rights work.
Many young people in our movement identify as LGBTIQ, people living with HIV, sex workers, Indigenous people or refugees. They all have stories. Ask for their input, and turn it into recommendations, actions and commitments.
We must not silence other young people, but rather uplift, support and nurture their experiences and create systematic changes. If young people's voices are not heard, then we should start changing policies, which is easy if there is willingness and empathy. The best way for my voice to be heard is not by being the loudest, but by amplifying the voices that should be shouting in unison, especially when the common goal is human rights for everyone.
My top three tips are:
Change hearts and minds. We must continue our campaigns and activism. Create a culture of support for young people living with HIV; battle bigotry, homophobia and transphobia from within educational institutions; create harm reduction support for people who use drugs, instead of criminalizing them. It starts with identifying key allies and then challenging cultures and negative perceptions.
 
Know your privilege. Self-assess whether some spaces and opportunities are beneficial for our movement. Decolonize the culture of youth empowerment and mobilization because there are many rich experiences in grassroots movements at the core of HIV activism. See young people as partners and co-creators. We often discuss HIV in a biomedical tone; localize and develop communication strategies to make HIV knowledge accessible to all.
 
Self-care is important. Self-care includes examining and assessing yourself in order to better serve your communities and the world. Learn to say no when you need to rest and recuperate. I'm advocating for self-care to be an essential part of programming for activists and staff working in organizations and health facilities on the front line. How will our voices be heard if we cannot take time off to care for ourselves?