HVTN 702 "Uhambo": A worthwhile step in the journey to find an effective HIV vaccine
Immunization is widely recognized as one of the world's most successful and cost-effective health interventions, saving millions of lives. Every year during the last week of April (24-30 April 2020), World Immunization Week is celebrated to promote the use of vaccines to protect people of all ages against infectious diseases. Although much progress has been made to develop vaccines against a number of diseases, an HIV vaccine remains elusive. In this post, we revisit one of the most promising HIV prevention vaccine studies, which was prematurely halted due to lack of efficacy and highlight its critical role in informing HIV vaccine development.
The search for an HIV vaccine remains an important endeavour in the effort to optimize the HIV prevention toolbox
A safe and globally effective vaccine will fundamentally change the course of HIV epidemics and durably reduce the number of new acquisitions, especially if prioritized for the most vulnerable groups and the general population of more affected countries (for example, in southern Africa).
he number of new HIV acquisitions (the incidence) observed during the course of the recently halted HVTN 702 pivotal Phase 2b/3 study remains unacceptably high, especially among young women, despite a comprehensive HIV prevention package provided as part of the study. This tells us that the epidemic remains out of control in the study population.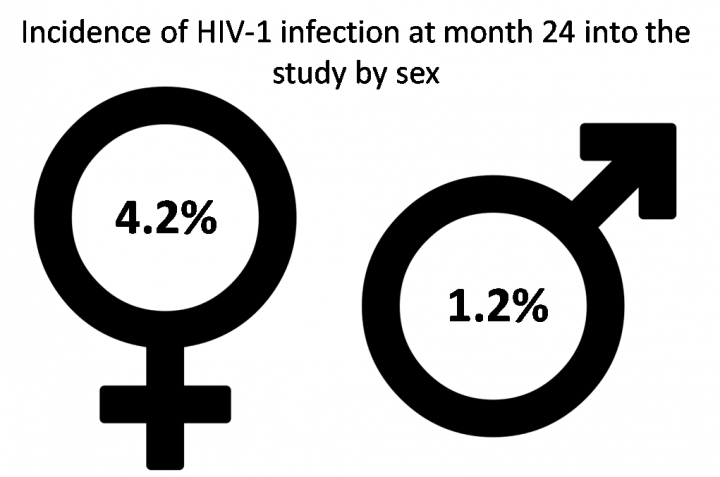 Unexpectedly, immunization in this Phase 3 efficacy trial was discontinued when its Data and Safety Monitoring Board recommended that the study be stopped for futility after the board concluded that the regimen was safe, but would not offer protection against HIV. Study participants are entering a follow-up period during which they will continue to receive HIV counselling and testing and will be monitored for safety.
HVTN 702 was designed based on the only vaccine study that showed partial efficacy
The HVTN 702 study started in South Africa in October 2016. The country has one of the highest prevalence levels of HIV in the world at 20%; young women are acquiring HIV. The vaccine design and study regimen were based on the RV144 study (the "Thai Trial"): this is the only HIV vaccine study to date to show some protection against HIV, with 31% over 42 months and a reported 61% vaccine efficacy over 12 months. For the HVTN 702 study, the vaccine candidate was adapted to the type of virus prevalent in southern Africa (clade C), and a different adjuvant was used to boost the immune response and generate a more robust and durable immune response.
The study was conducted among a vulnerable population in South Africa
The HVTN 702 study aimed to measure the safety and efficacy of a complex vaccine regimen; it was stopped on 3 February 2020 due to non-efficacy. Study participants were young (18-35 years), healthy, HIV-negative men and women recruited across 14 study sites in South Africa. A total of 5,404 participants (70% were female) at high risk of HIV acquisition during the course of the study were fully enrolled by June 2019. Both males and females reported high levels of ongoing risks of HIV exposure, including multiple and intergenerational older partners and inconsistent condom use. Almost a third of women and a fifth of men were diagnosed with a sexually transmitted infection (STI) at enrolment, with the most common being Chlamydia trachomatis.
Participants were provided with a comprehensive prevention package, including HIV risk-reduction counselling, referral for voluntary medical male circumcision, condoms and lubrication, access to free oral pre-exposure prophylaxis (PrEP) and post-exposure prophylaxis – which were used infrequently – and treatment of STIs.
Safe but ineffective. High HIV incidence among women. Low PrEP use
Glenda Gray, Protocol Chair and President of the South African Medical Research Council, presented preliminary data at the annual Conference on Retroviruses and Opportunistic Infections (CROI) in Boston:
The vaccine was considered safe.
Participants' retention in the study was high at almost 80% by month 36 in both the intervention and control arms.
At 36 months and based on 5,383 participants, there was no significant difference between the number of HIV diagnoses during the study between the test and control groups, with 137 people infected in the vaccine group and 130 in the placebo group. Researchers observed no difference in the number of infections among females and males, with 105 females acquiring HIV in the vaccine group versus 109 in the placebo group and 14 males acquiring HIV in both the vaccine and placebo groups.
Known use of PrEP was low at 2% despite it being offered as part of the prevention package. Adherence to PrEP was measured via laboratory testing of blood samples.
Investigations into possible mechanisms that contributed to the lack of efficacy are critical, and time must be spent evaluating vaccine, host, viral and immune responses.
Differences between populations, viruses and vaccines may explain lack of efficacy
Larry Corey, Principal Investigator of the HIV Vaccine Trials Network (HVTN), noted that despite observing higher immune response triggered by the regimen tested, the reasons for lack of efficacy in this study compared with the RV144 study remain to be elucidated. Corey proposed several hypotheses to explain the failure of the regimen. These included genetic differences between the virus circulating in South Africa and Thailand and also between participants. There was a higher likelihood of a mismatch between the vaccine and the circulating strains and differences in pre-existing immunity. Critically, the higher frequency of exposure to HIV and higher viral loads observed in the South African context compared with the Thai settings (the challenge exposure) could be the key differences between the two studies.
The force of infection is much greater in sub-Saharan Africa than in Thailand and the challenge exposure may require greater level of immunogenicity than current Non-Human Primate models predict, as well as what was associated with RV144.
Larry Corey
There are currently four other vaccine studies evaluating different mechanisms for protection (AMP, HVTN 705, HVTN 706 and PrEPVacc). Several ongoing and planned trials to prevent COVID-19 are evaluating novel vaccine platforms and delivery methods. Data from these studies could demonstrate potential utility in the design of novel HIV vaccines. Altogether, critical information will be generated that will advance progress toward a vaccine that will contribute to the durable control of the HIV epidemic. Additional research and funding will be needed to take these and new products in the pipeline to fruition.
There will be much to learn from the study and the search must go on
South African researchers, clinicians and participants should be applauded for the immense contribution they are making to improving our understanding of HIV vaccine design. The volunteers who participated in the study should be especially commended for the role they played in this important and ongoing work. Although it was disappointing that the vaccine did not show efficacy, its post-study analysis will reveal important lessons that can be used to better inform vaccine design.
Carrying out these complex, lengthy and costly vaccine studies would not have been possible without the support of public, philanthropic and private funders. There are further promising candidates in the study pipeline, and the current scientific journey must continue; indeed, it is crucial that we re-double our efforts to evaluate biomedical interventions to prevent the onward transmission of HIV. This journey rests on commitments being made to continue supporting research.
The HVTN 702 study, aptly named Uhambo ("journey"), ended unexpectedly, but others are walking the path towards a safe and globally effective HIV vaccine. May the journey continue.